I seriously cannot remember where I picked this little gem up. I wish I did, so I could credit the proper source, because this is seriously good chicken. I made this for Hubby and I, since I knew the kids wouldn't touch spinach and feta. A few years ago, I would have been so intimidated about making stuffed chicken, but now it's a breeze. The flavors were so wonderful together. The salty Feta, cut the bitterness of the spinach and the mushroom sauce added a much needed earthiness to it all. When I first tasted the sauce, I thought it was a bit bland, so I jazzed it up, by adding some thyme. I tell you, I thought I was sitting in a high end restaurant eating this one. Hubby said it was the best chicken I've made in a while (yay). This would be perfect for a special occasion or a dinner party.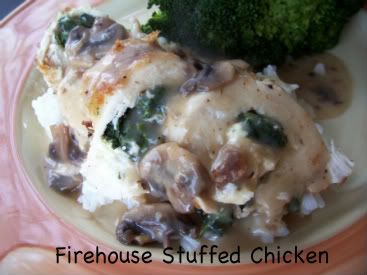 FIREHOUSE STUFFED CHICKEN
4 to 6 chicken breasts, boned and skinned
Fresh spinach, chopped
Feta cheese
1/4 C Italian bread crumbs
5 Tbs Butter
1/2 lb. fresh mushrooms, sliced
1 can of chicken broth
1/2 c. dry white wine
3 Tbs Flour
Ground pepper
Pound chicken breasts until flat. Mound spinach and Feta cheese onto chicken breasts. Carefully roll breasts and secure with toothpicks. Roll chicken breasts in bread crumbs.In a large aluminum frying pan melt 1/2 stick of butter. Brown breasts in frying pan on all sides for about 5 minutes.
Place breasts in baking dish, add 1 tablespoon of butter and bake in 375 degrees for about 40 to 45 minutes.
While chicken is baking prepare gravy. In same frying pan used for browning, melt 1/2 stick of butter. Add mushrooms and saute a few minutes. Add flour and blend until a paste forms. Stir in chicken broth and wine, sprinkle with ground pepper. Cook and stir over medium heat until gravy thickens. To serve, pour gravy over chicken breasts and serve with rice.
Cindy's notes:
I used frozen spinach instead of fresh. I also omitted the wine, since I do not care for the taste and added a 1/4 tsp of thyme to the mushroom sauce.