As a treat for St. Patrick's Day, I decided to make this for breakfast. Mr.B was super excited about St. Patty's Day, so I thought it would be fun to have a special holiday breakfast. I guess the name kind of threw me for a loop, since I expected it to be more bread like, than cake like. It's still very delicious, but it wasn't what I expected. The kids really enjoyed it and I've been enjoying it toasted and slathered with butter, LOL. I really like that it isn't overly sweet, because with the raisins it would just be too much. I used Sultana raisins, rather than golden raisins, since that's what I had in the pantry. We had a great holiday breakfast and all made sure to wear green, so we wouldn't have to kiss a fool, LOL.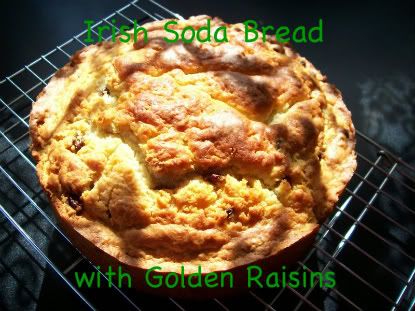 Irish Soda Bread with Golden Raisins
Submitted by Sandy

3 cups all-purpose flour
1/2 cup sugar
1 T baking powder
1 tsp baking soda
1/2 tsp salt
1 cup golden raisins
1 3/4 cups buttermilk
2 large eggs
3 T melted butter, divided
1/2 tsp vanilla

Mix flour, sugar, baking powder, baking soda, and raisins in a large bowl. In a small bowl, beat buttermilk, eggs, 2 tablespoons of the butter and vanilla until blended. Add egg mixture to flour mixture; stir until evenly moistened.
Spread batter in a greased 10-inch ovenproof frying pan or a spring form pan with removable sides. Drizzle with remaining 1 tablespoon butter. Bake in a 350º until bread is browned and pulls away from sides of pan (about 45 minutes). Let cool in pan on a rack for 10 minutes. Remove rim. Serve warm or at room temperature. Makes 1 loaf (about 10 servings).