Yesterday was a busy day and I hadn't really made out my meal plan yet, so I'll post it today. My Mom is down for a few weeks, to help with the kids, while I go to the Dr's and have some tests done. I'm trying to avoid any fruits, veggies and nuts, so it should be an interesting week for me. I have to fast on Thursday and am not sure how well I will feel Friday, so Mom will come to the rescue, LOL. So here is what is on the menu, I'll pretty much eat the same, minus anything too fibrous.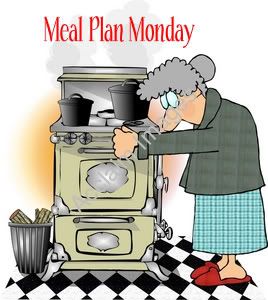 Monday
- we had
Bean and Cheese Enchiladas
with Mexican Rice (box) and a salad. The kids had Squid Dogs (new recipe) with pasta sauce and peas.
Tuesday
- the plan is
Salmon Patties
, rice and sauteed green beans.
Wednesday
- hopefully DH will make some BBQ ribs. We'll have those with baked potatoes and a carrot rutabaga puree.
Thursday
- I'm fasting and the others may have eggplant Parmesan with a salad and bread sticks.
Friday
- not sure, Mom is in charge
Saturday
- ham, mashed potatoes, veg and rolls.
Sunday
- leftovers