It's spring break here in Ontario, so Mr.B is home with us all week. My dad is due in sometime on Wed, to spend the night and to bring my Mom back home. She has been a godsend since she's been here, and I will miss her help and company terribly. I went for a test on Friday and the results were not unexpected, but we were hoping that we had more time before this specific outcome. Alot of change is on the horizon for us, regarding my health. It will be a welcomed change, but challenging none the less.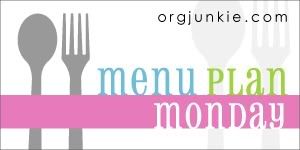 This weeks menu isn't anything spectacular. I've mentioned before that my Dad is a very simple man, when it comes to food. So nothing fancy, or too adventurous. I may sneak in some type of St. Patrick's Day food, if I get the chance, LOL. So in no particular order.....
Mon- veggie stir fry/ lo mein
peameal bacon sandwiches, with fry bread and baked beans
firehouse chicken and pasta (new recipe)
oven baked pork chops with rice pilaf
pasta carbonara with breadsticks and tossed salad
Creamy Beef Stroganoff (new recipe)
Leftovers
Head on over to Organizing Junkie, to check out a bunch of other meal plans for the week.