Wow, I can't believe March has already come to an end. It seems like this year is flying by so quickly. I hope things quiet down a little, since this year has been quite hectic so far. We are looking forward to spending a quiet Easter at home, just the 4 of us. I'm happy to say that I pretty much stuck to my Meal plan last week, even though I felt very uninspired while writing it. The Firehouse Stuffed Chicken turned out beautifully, so keep an eye out for that in the next few days. This week I'm trying to use what I have on hand and not have to do groceries until the middle of next week. So here is our menu this week.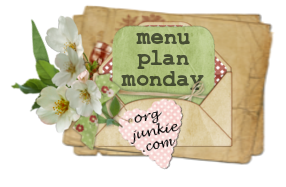 Monday-
Potato Corn Soup
with tossed salad
Tuesday-
Tuna with Cheesy Garlic Biscuits
(using Salmon)
Wednesday- Spaghetti and Meatballs with Caesar Salad
Thursday- Steaks and Chicken on the grill with foil pack potatoes and corn
Friday- Good Friday, so we'll have pancakes with yogurt and fruit
Saturday- Leftovers
Sunday- Easter!! Ham, mashed potatoes, broccoli with cheese sauce,
butter horn rolls
and
double layer lemon pie
.
Once again, make sure you head on over to the
Organization Junkie
, to check out a whole bunch of other Meal Plans for this week!