Happy Monday! We had a great spring break and now it's time to get back into the old routine. The weather was so nice last week, that I didn't really stick to my menu, so I'm rolling over some items to this week. I am feeling somewhat uninspired to cook though, since Hubby is working evenings this week. We'll see how well I stick to it this week. So in no particular order.....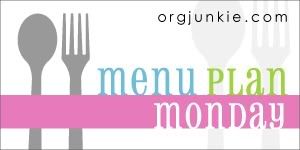 Baked chicken and cheese risotto- tonight
Creamy Beef Stroganoff (new recipe)
Firehouse chicken with rice pilaf (new recipe)
Ham, mashed potatoes, veg and homemade rolls
Pierogies with roasted red pepper and ham alfredo sauce and tossed salad
Stuffed shells with breadsticks and salad
Leftovers
Don't forget to head on over to the Org Junkie to check out tons of other meal plans for the week.