These cute little things are a neat special breakfast treat. Basically it is a pancake, baked in a muffin tin, instead of on a griddle. I liked the idea, since I was able to stuff them. The kids thought they were real neat and Mr.B polished 2 of them off. I filled mine with blueberry, strawberry jam and topped them with honey. The filling did sink to the bottom of the muffins, but I thought it was due to the batter being a tad runny. Seems that I'm not the only person who had this problem and it may be a jam consistency issue. The thicker the filling, the more chance it will stay in the center. The possibilities are endless and these muffins can be filled with endless sweet or savory treats. If you are trying to stay away from pre made, boxed food igredients, then simply use your favorite pancake batter, instead of Bisquick.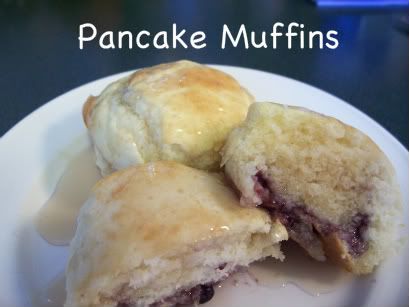 Pancake Muffins
2 cups Original Bisquick mix
1 cup milk2 eggs
1/2 stick butter
12 tbsp filling: try Nutella, fruit jam, or cream cheese
confectioners sugar for sprinkling
maple syrup for serving
Preheat oven to 400 degrees. Generously coat the bottom & sides of a 12-muffin tin with butter. Mix Bisquick mix with eggs and milk, until smooth. Fill each cup in the muffin tin half-way. Add 1 tbsp of filling to the middle of each muffin, then cover with the remaining pancake mix. Bake 20 minutes. Remove from oven, place on serving dish & use a flour sifter to sprinkle with sugar. Serve with warm syrup.