I can't believe I forgot to post these. Things have been so difficult around here, with me not feeling well. I go for one of my tests next Friday, so hopefully we will be able to go from there.
I saw this recipe years ago on
Cooking for your Family
. I copied it down, but never really gave it a second thought, since I'm not a big ground meat fan. Well with 2 grown men in this house, I've been trying to make more Man friendly meals, LOL. I knew this would be right up their alley, if I used ground beef. They are really delicious. Kind of like huge meatballs baked in sauce. The flavors are great and they come out very tender, due to the browning. I served them with some cooked noodles and a tossed salad. Everyone enjoyed them, even me!!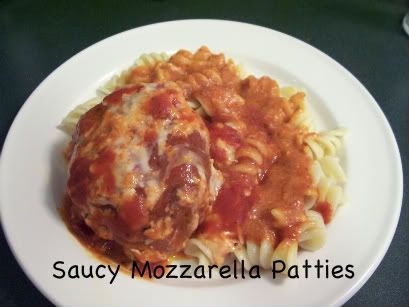 Saucy Mozzarella Patties
Submitted by Jessica
1 jar of your favorite tomato sauce or 16-24 oz homemade marinara/pasta sauce
1 lb ground turkey (or meat of your choice)
1 cup breadcrumbs
2 cups breadcrumbs
1 egg
1/2 tsp salt
1/4 tsp pepper
1/2 tsp garlic powder
butter or margarine, olive or veggie oil
1 cup shredded mozzarella cheese (or fave melting cheese)
1/2 cup grated or shredded Parmesan cheese
Place ground meat into a large mixing bowl and add egg & incorporate into meat. Add 1 cup bread crumbs, add salt, pepper & garlic powder. Combine ingredients by hand until well-blended. Melt about 1 TB of butter & about 1 TB of olive oil in pan.Put 2 cups bread crumbs into flat dish. Measure 1/3 cup of meat with a 1/3 measuring cup & flatten meat into a patty, like a hamburger. Press patty into dish with bread crumbs to coat/bread patty. Cook patty in butter & olive oil just until both sides are browned. Place patties in a flat baking dish, sprayed with cooking oil if desired. Repeat until all of meat mixture is used. Spoon some sauce onto top of each patty. Sprinkle with Parmesan and then with mozzarella. Drizzle more sauce on top of cheese. Bake at 350* until cheese is melted and bubbly, but not brown; about 15-20 minutes. Makes 6-8 patties.