This recipe has been floating around on
Cooking for your Family
for ages it seems. I've really been trying to eat more fish, but it's so expensive now a days. Maybe it's because I grew up in a family of fishermen and was used to free fresh caught fish, LOL. So when fish was on sale a few weeks back, I grabbed a few packages. This recipe is so easy!! Seriously, 8 minutes or so, and your fish is done. Just a little advice though, take your smoke detectors down, if you don't want to freak out your kids, LOL. The fish was flaky and moist. The nutty saltiness paired really well with it, which surprised me. Queenie ended up loving it. I knew Mr.B would never eat fish this way, so I seasoned his with salt and pepper. I didn't have any fresh lemon, so I seasoned our fish with Lemon Pepper. I also used Sole, instead of Tilapia and it tasted heavenly. It looks really fancy too, so this would be a great recipe to entertain with.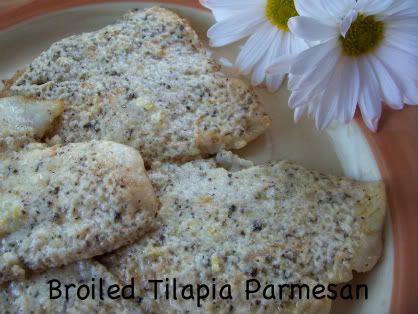 Broiled Tilapia Parmesan
Submitted by Konnie (on CFYF)

2 pounds tilapia filets
1/2 cup Parmesan cheese
1/4 cup butter, softened
3 tablespoons mayonnaise
2 tablespoons fresh lemon juice
1/4 teaspoon dried basil
1/4 teaspoon black pepper
1/8 teaspoon onion powder
1/8 teaspoon celery salt

Preheat your oven's broiler, and grease a broiling pan, or line with aluminum foil.

In a small bowl, mix together the Parmesan cheese, butter, mayonnaise, and lemon juice and season with dried basil, pepper, onion powder, and celery salt, mix well and set aside.

Arrange fillets in a single layer on the prepared pan. Broil a few inches from the heat for 2 to 3 minutes. Flip the fillets over, and broil for a couple more minutes.
Remove the fillets from the oven, and cover them with the Parmesan cheese mixture on the top side and broil for 2 more minutes, or until the topping is browned, and fish flakes easily with a fork. Be careful not to over cook the fish.