I was trying to organize my recipe binder, when I stumbled upon this recipe. I had cut it out, from some junk mail I had received, last year. You know, when they send you offers to buy or preview cookbooks for 30 days etc, well I love to cut the free recipes out and try them, LOL. I had a huge Toblerone bar, leftover from Christmas, so I decided to make this. It was so simple and came together in under 5 minutes, using our Kitchen Aid mixer. Once the crust was cooked and the chocolate was spread, I cut the cookies and placed them in the fridge. About an hour later, we had amazing cookies. The butter from the cookie, combined with the chocolate, gives a slight peanut butter-y hint. I'm not sure why, but that's the taste I get from it, LOL. The cookie is flaky, but not crumbly and I love how you get bits of nut and nougat in the chocolate layer. The directions were a little confusing, so I simply pat the dough into a rectangle, directly onto my cookie sheet (without parchment). Easy, elegant and oh so delicious!!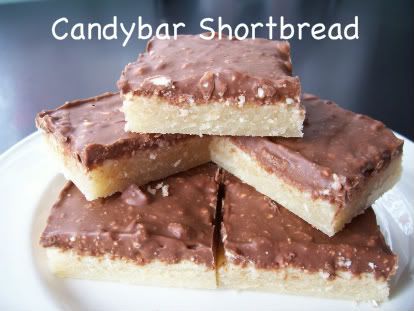 Candy Bar Shortbread
1C unsalted butter
2/3C sugar
2 1/4C flour
pinch of salt
3 (3.52-oz) Toblerone chocolate bars, coarsely chopped
Preheat oven to 325 degrees. Stack 2 baking sheets together and line top sheet with parchment paper.
In a mixer bowl, cream butter and sugar until blended. Add flour and salt and mix to make a stiff dough that does not quite hold together. Pat dough into a 13X9-inch pan lined with parchment paper and set pan on prepared baking sheet, or pat dough directly on prepared baking sheet, in a 14X10-inch rectangle. Bake until lightly golden, 25-40 minutes. Sprinkle chocolate on hot uncut shortbread. Let sit 5 minutes and smear chocolate to cover the shortbread. Cut into 2-inch squares and place in fridge or freezer to set up.
This recipe is being entered in EatInEatOut's 3 Annual Christmas in July Cookie Contest
This recipe linked to
Recipe of the Week