I love the smell of dill. Every time I go to the store, I stop, pick up a bunch of fresh dill and smell it. I never buy it, just smell it. Well last week, I decided I was going to buy it and use it, somehow.... I was planning on making fish, so I knew dill pairs nicely with fish. So I went to Cooks.com to search for a dilled potato recipe. I had made dilled potatoes before, but wasn't crazy about the recipe. This one seemed simple enough and used everyday ingredients, so I gave it a whirl. All I can say is I LOVED these potatoes. Just something about the creamy dill sauce made them heavenly (in my opinion). Mr.B wasn't too crazy about them, but did eat them, while Quennie wolfed hers down. I did find there wasn't much dill in the recipe, so I increased it to 2 Tbs. These were so much better the next day, when the flavors had time to develop. I'll be keeping this recipe handy, for next time I decide to buy some fresh dill, LOL.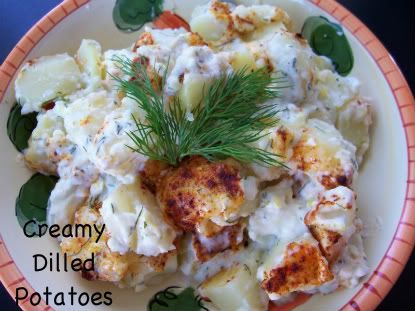 CREAMY DILLED POTATOES
Adapted from cooks.com
1 tbsp. butter
1 tbsp. flour
3/4 tsp. salt
2 Tbs. fresh dill, or 1 tsp dillweed(dry)
1 c. milk
1/2 c. mayonnaise
3 tbsp. minced onion
4 c. diced, cooked potatoes
Paprika
Melt butter, blend flour, salt and dill. Add milk, cook, stirring until thick. Blend in mayonnaise and onions. Alternate layers of potatoes and sauce in a casserole. Bake at 350 degrees for 15 minutes
This post is being linked to Potluck Sunday over at
Mommy's Kitchen
.
Go on over and check it out!!