I'm a Food Network Junkie. Well, I use to be. Now a days I have to fight for TV time with the kids, LOL. But when they aren't watching TV, you can bet it's on the Food Network channel. A few weeks ago, I saw Roger Mooking, from Everyday Exotic, make this recipe. Now this isn't a show I'm all to crazy about, but it was on and I was kind of watching it. So this recipe caught my eye. I've been thinking a lot lately on how I can get us, as a family, to start eating more healthily and eating a broader variety of foods. So after seeing this dish, I knew it was something I wanted to try. I got the recipe online and bought the chickpeas. It was fairly simple to make, though I needed to let mine simmer much longer than the recipe called for. It was just too soupy, which was not how it was on TV. So after the extra simmering, I got it to the consistency I wanted. I also omitted the white wine, since I'm not a fan and didn't want to open a bottle, for just a splash. So I used chicken stock instead. The dish was really tasty. A little sweet, but smokey at they same time. The chickpeas were nice and creamy. Mr.B wasn't too crazy about them, but Queenie loved them. Hubby said they were good, but he's trying to cut carbs, so he only had a small serving. They were even delicious reheated the next day. I great new twist on chickpeas!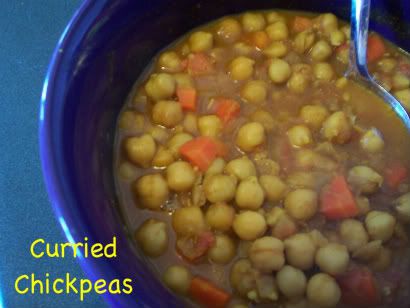 Curried Chickpeas
Adapted from Roger Mooking/Everyday Exotic
1 teaspoon vegetable oil
1/2 onion, finely diced
1 carrot, finely diced
1 clove garlic, finely diced
2 tablespoons curry powder
splash white wine
4 plum tomatoes, roughly chopped
1 -540ml can of chickpeas, rinsed and drained
1 cup chicken stock
1 tablespoon sugar
1 tablespoon butter, cold
salt
In a sauté pan, heat oil over medium heat and sweat onions. Add carrots and garlic, stir. After garlic has browned slightly, add curry powder and stir. Add a splash of white wine to deglaze pan. Add tomatoes and chickpeas, stir. Add chicken stock and simmer, covered, for 10 minutes. Season with salt and sugar. Remove from heat, add cold butter to finish.