I've been trying to teach Mr.B that many holidays have more of a meaning than what society has turned them into, with all the commercialism. So after reading an Easter story to him and answering many questions, I thought making these for Easter breakfast would be fun. I remembered seeing a recipe on Cooking for your Family, but couldn't find it anywhere. Then I opened an email newsletter from DVO.com and lo and behold, the recipe I was looking for. So after hunting for eggs, I set out to make Hollow Tomb Rolls. These suckers are pretty tricky. I was certain that I had sealed all the edges super well but alas.... I was wrong. This is what is not suppose to happen.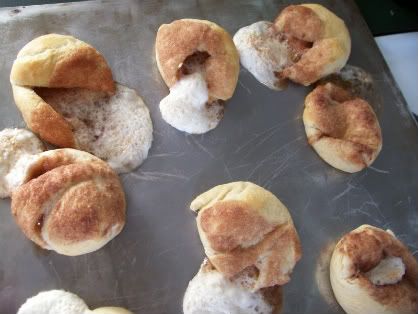 Next time I think I may try using bread dough, instead of crescent rolls. Only 1 little roll survived the ordeal, LOL. Regardless of the marshmallow escaping, these were really good. Almost cinnamon roll like, with a slight crunchy gooey-ness. Mr.B devoured 2 and was surprised to see that the marshmallow I had place inside was now gone. Of course I made sure to comment on how Jesus' tomb was empty on Easter morning too, and that made them all the more exciting. Even if your beliefs are different from ours, give these a try sometime... I think you'll like them.
Hollow Tomb Rolls or Marshmallow Delight
Adapted from DVO.com
1 (8 ounce) package refrigerated crescent rolls
¼ cup sugar
2 tablespoon ground cinnamon
8 large marshmallows
¼ cup butter, melted
Separate rolls into eight triangles. Combine sugar and cinnamon. Dip each marshmallow into butter, roll in cinnamon-sugar and place on a triangle. Pinch dough around marshmallow, sealing all edges. Be sure to seal well or the marshmallow will escape.
Dip tops of dough into remaining butter and cinnamon-sugar. Place with sugar side up in greased muffin cups. It helps to use jumbo muffin tins so that the juice doesn't overflow.
Bake at 375 degrees for 13 to 15 minutes. Serve warm.