Pork tenderloins were on sale a few weeks back, so I picked up a few and threw them in the freezer. A few days later, someone reviewed this recipe on Cooking for your Family. The title caught my eye, I had all the ingredients, so I decided to make it. It turned out really well. It was super tender, sweet, but savory at the same time. There also was a slight bite, from the chili powder, but not enough for the kids to notice (thank goodness). It was super cold out that day, so I cooked it in the oven, rather than on the grill. I'll include oven directions at the end of the recipe. Everyone really enjoyed it and I used the leftovers to make a stir fry, the next night.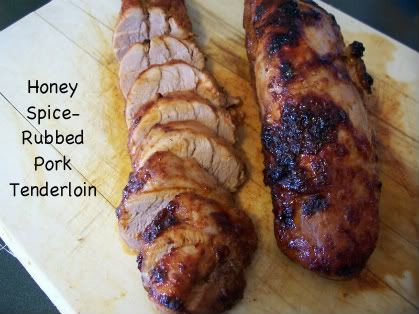 Honey Spice-Rubbed Pork Tenderloin
Submitted by Sandy
An easy spice rub mixed with dressing infuses this juicy tenderloin with extra flavor in no time flat.
1/4 cup Kraft Catalina dressing, divided
1 large pork tenderloin (1 pound)
1 tsp chili powder
1 tsp garlic powder
1 tsp dry mustard
1/2 tsp paprika
1/4 tsp dried thyme leaves (increased to 1/2 tsp and crushed between fingers)
1 T honey
Brush 2 T of the dressing over pork. Mix dry ingredients, rub onto pork. Let stand 10 minutes, or refrigerate up to 24 hours to marinate.
Preheat grill to medium heat. Place pork on grill; cover. Grill 20 minutes, turning occasionally.
Mix remaining 2 T dressing and honey. Brush some of the honey mixture over pork. Continue grilling 5 to 10 minutes, turning and brushing with honey mixture until pork is cooked through (160º). Let stand, covered with foil, for a few minutes before serving.
Sandy's notes:
I increased the amount of dressing and honey. My grill runs hot (after 5 minutes the pork was slightly charred on one side), so keep an eye on it. After about 15 minutes of grilling I stuck in the meat thermometer so I would know when it got to 160º.
Oven bake directions:
Place tenderloin(s) on a foil lined baking sheet (rimmed). Bake at 375 degrees for 45 minutes to an hour, until internal temperature reaches 165 degrees. Let rest, covered with foil, for 15 minutes, before slicing.