Good morning! We had a good week, last week. I tried a few new recipes, so be on the lookout for those, in the next few days. This week should be quiet, with Mr.B in school. The weather is warming up, so we'll be grilling a lot more. Also Hubby has decided to cut down on carbs, so you'll notice and increase in vegetable side dishes, LOL. So here is our menu for this week, in no particular order, except for tonight.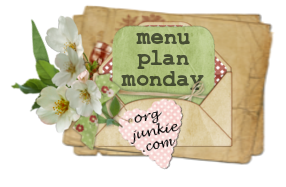 Mon- homemade pizza with tossed salad
Broiled Tilapia Parmesan with spaghetti squash

Grilled chicken salads and homemade Strawberry Pie for dessert

Grilled steaks with Curried Chickpeas and foil packet veggies

Breakfast- eggs, bacon, toast and fruit

Leftovers
Make sure to head over to the Organization Junkie, to check out tons of other meal plans for the week!!