Happy Monday!! Hope everyone had a nice weekend. Ours was pretty low key, with Hubby working. Mother Nature decided to grace us with snow on Saturday. I sure wish the weather would decide what it wants to do, since we've been going from beautiful spring temperatures, to frigid temperatures, from one day to the next. The highlights from last week include Curried Chickpeas, Broiled Tilapia Parmesan and Creamy Dilled Potatoes, which I'll be posting in the next few days.
This week is slightly busy, with appointments and Mr.B being in school for 3 days. So the menu is nothing extravagant, LOL.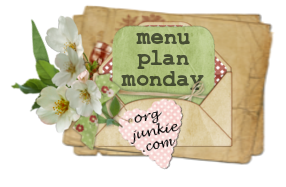 Monday- Tuna with
Cheesy Garlic Biscuits
and Banana Nut Cake(new recipe) for dessert
BBQ ribs and foil packet veggies
Spaghetti and meatballs with Ceasar salad
Bacon pasta with sauteed zucchini
Sweet and Sour Pork Chops with mashed potatoes and broccoli
Gyro Burgers with yogurt sauce and Soufle Kounoupithiou(3 cheese baked cauliflower)[new recipes]
Leftovers
Make sure to head over ot Org Junkie, for more great menus for the week!!