Good morning! I'm a bit late this morning, since Hubby and I decided to go browse the sales at Canadian Tire, after dropping Mr.B off at school. We picked up some silicone bakeware for 50% off. Deals like that make me happy. This week is somewhat busy. 4 appointments in the next 2 days, so this week's menu will be simple. Highlights from last week include Gyro burgers, so keep an eye out for that this week. So here is our menu this week.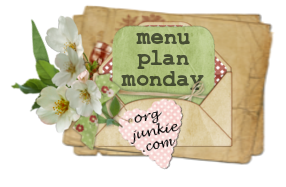 Monday- take out pizza with a salad
Tuesday- Honey Pork Oriental with rice (new recipe)
Wednesday- Homemade waffles, bacon and fruit salad
Thursday- Bean and Cheese Enchiladas with Zucchini con Queso (new recipe)
Friday-Ricotta Stuffed Chicken (new recipe) with mashed potatoes and veg
Saturday- leftovers
Sunday- Creamy Beef Stroganoff (new recipe)
Head on over to Organization Junkie, to check out more menus for this week.