Happy Easter Monday!! We had the perfect Holiday long weekend. It was nice and relaxing, with great weather. The kids had a blast making and decorating Easter Cookies and hunting for eggs Easter morning. We decided to have and Easter lunch, instead of dinner, since Hubby was working Sunday evening. It was delicious and be on the lookout for an Asparagus and Feta recipe, I'll share later this week. This week should be pretty low key. Hubby works until Thursday and Mr.B returns to school Wednesday. Other than that nothing is in the works. Here is our menu this week, in no particular order.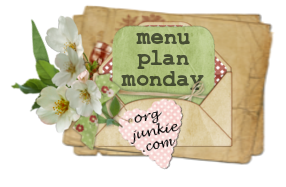 Chicken Bryan with Egg Noodles and salad (new recipe)
Porcupine Balls in the slow cooker
Creamy Mustard Pork Chops with rice and veg (new recipe)
Prime Rib, with mashed cauliflower and roast carrots
Honey Spice-rubbed Pork Tenderloin with roast potatoes and veg (new recipe)
Don't forget to head over to the Organization Junkie, to check out tons of other meal plans for the week!!