Many, many years ago, I was browsing on the M&M website and found a recipe for blondies, using mini M&Ms. I saved the recipe and forgot about it, until recently. The kids got a ton of M&Ms for Easter, so I figured I'd try to incorporate them, into some sort of dessert. Then I remembered this recipe and thought it would be perfect. These are really delicious! Soft and chewy, with crunchy bits of chocolate candy, throughout. The kids absolutely loved them, and I thought they looked really cute. The only changes I made was I used 1 egg, instead of 2 egg whites and used regular M&Ms, rather than minis.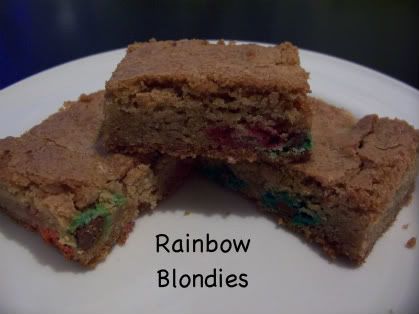 Rainbow Blondies
via M&Ms website

2/3 cup butter
1 1/4 cups firmly packed light brown sugar
2 large egg whites
1 teaspoon vanilla extract
2 cups all-purpose flour
1/2 teaspoon baking soda
3/4 cup M&M'S® MINIS® Milk Chocolate Candies
3/4 cup chopped walnuts or pecans

Preheat oven to 350°F (or 325°F for glass pan). Cream butter and sugar until light and fluffy; add egg whites and vanilla extract. Combine flour and baking soda; add to creamed mixture just until combined. Stir in M&M'S® MINIS® Milk Chocolate Candies and nuts. Spread dough into a greased 13 x 9-inch baking pan. Bake 30 to 35 minutes or until wooden pick inserted in center comes out slightly moist with crumbs. Cool completely before cutting. Store in tightly covered container.
~~~~~~~~~~~~~~~~~~~~~~~~~~~~~~~~~~~~~~~~~~~~~~~~~~~~~~~
Now, onto the giveaway. I was so excited about grabbing some great silicone bakeware at such a good price, the other day, that I went back for more and have decided to share some with a lucky reader. I really love silicone bakeware. It is non stick and quite easy to clean. Just make sure to use a cookie sheet, underneath, or else you'll have a heck of a time getting it into the oven, LOL. So one lucky person will win a 9-inch cake pan, a 12 count mini muffin pan, a loaf pan and 4 mini loaf pans.
Simply leave me a comment, telling me what your favorite dessert is, to make or eat. For an extra entry, become a follower of my blog, or tell me you are already a follower.
Giveaway will close on Sunday May 2nd, at 5pm Eastern time. Winner will be chosen using random.org.