I decided to be adventurous, last week and try my hand at making banana cream pie from scratch. Banana cream is my least favorite pie, but I was looking for something different to do with my bananas. I must say that I'm converted and am in love with this pie. I guess the difference, between store bought and homemade, is that homemade tastes so much better. I always thought that store bought tasted too much like fake bananas. I really hate anything banana flavored. It reminds me of taking penicillin, as a child, LOL. But this pie was wonderful. It had a real banana flavor, which wasn't too overpowering. The custard did not taste egg-y at all, so that made it even better. I'm very proud that my custard turned out so well, and I did not end up with vanilla flavored scrambled eggs, LOL. This is rich, creamy and wonderful. I also made a
banana graham crust
, since I wanted a more intense banana flavor. I was a bit disappointed with the crust, which came out a tad chewy. The flavor was great, but I didn't care for the texture. So next time I'll just go with regular graham crust. Can't wait to make this one for my Dad!!!
Banana Cream Pie
Submitted by Erika
1/2 cup sugar
1/4 cup cornstarch
2 cups milk
2 egg yolks beaten
1/2 cup butter
1 T vanilla extract
3 medium bananas (peeled and sliced)
1 baked pie crust (9 inch)
1 cup whipping cream
2 T sugar
1. Stir together ½ cup sugar, cornstarch and milk until smooth in heavy saucepan and heat until boiling.
2. Stir small amounts of hot milk mixture into beaten egg yolks in a bowl.
3. Stir egg mixture into saucepan with remaining hot milk mixture. Cook over medium heat, stirring consistently until sauce thickens and boils, about 5 minutes
4. Remove from heat, and stir in butter and vanilla. Cool for 15 minutes.
5. Fold in bananas, reserving a few for garnish, spoon filling into piecrust, then cover and chill 1 hour.
6. Whip cream in a bowl until soft peaks form and gradually pour in remaining 2 tbsp sugar and continue whipping until stiff peaks form. Spread on top of pie and add bananas for garnish.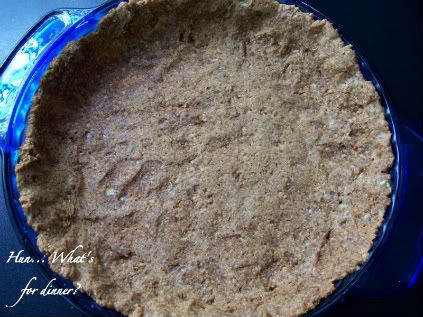 BANANA GRAHAM CRUST
1 1/2 cup crushed graham crackers (about 16 crackers)
1 very ripe banana, smashed
1 T butter, melted
Preheat oven to 350°F. In a medium mixing bowl, combine crushed graham crackers, banana and butter. Using a fork, combine ingredients until cracker crumbs are evenly coated (this can also be done in your food processor if you used it to crush the crackers- just pulse to combine). Press crumb mixture evenly into a nine-inch pie dish. Line with a double thickness of foil and bake for 10 minutes, then remove foil and bake another five minutes. Remove from oven and set aside to cool.
Don't forget to head over to Mommy's Kitchen, to see other great recipes for Potluck Sunday!!