If you remember from a previous post, I bought a ton of dill weed, on a whim. Of course I had to find ways of using it, so I looked for a bread recipe. You know how much I love my bread, LOL. This was really the only recipe that caught my eye. The only problem was, it used cottage cheese. Now, I'm not big on cottage cheese and refused to buy some just to make bread, since I knew I wouldn't use the leftovers. I thought of using Ricotta and went to the great ladies on CFYF for advice. Everyone agreed that the substitution would work, so I made the bread. Wow, it was great! It was soft and fluffy, but a bit more dense than regular white bread. I thought the dill taste could have been stronger, but it was good none the less. The kids loved it (Queenie called it croutons, every time I toasted it) and my Mom thought it was really yummy too.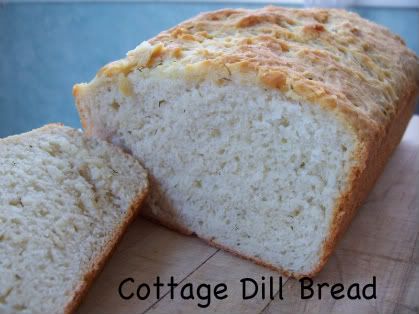 Cottage Dill Bread
Adapted from Cooks.com
"Dill and onion spiked cottage cheese bread teams up with almost any robust entree. Your bread machine makes this a snap to prepare."
2/3 cup warm water (110 degrees F/45degrees C)
2/3 cup cottage cheese
2 tablespoons margarine
3 cups bread flour
1 tablespoon white sugar
1 tablespoon dry milk powder
1 tablespoon dried minced onion
1 tablespoon dill fresh weed
1 teaspoon salt
1 1/2 tablespoons active dry yeast
1. Measure ingredients into the machine in the order suggested by the manufacturer. Select the Basic Bread cycle.
Cindy's notes
: I replaced the cottage cheese with an equal amount of Ricotta. I also replaced the water with milk and omitted the powdered milk, since I don't really buy it. I used the dough cycle on my bread machine, formed the dough into a loaf, let it rise 45 minutes and baked it at 350 degrees, for about 30-40 minutes ( the bread should sound hollow when tapped).