I love pita chips, but they are so expensive. So I recently decided to try making some. The first time I did, I used regular pita bread that you fill and that didn't work as well as I would have liked. So this time I used Greek style pitas, with better results. And what are pita chips without dip?? With fresh dill still in the fridge, this was the logical choice, though I would have loved some hummus too. Great paired together and I even added some of the dip in my mashed potatoes the other night, with super yummy results.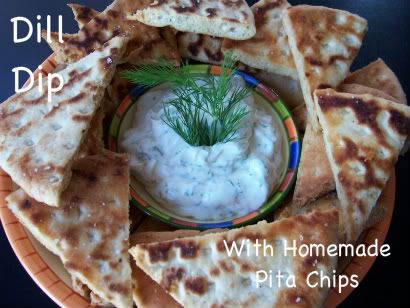 Homemade Pita Chips
1 pkg Greek style pitas
olive oil
fine sea salt
Preheat oven to 300 degrees. Cut pitas in half, then cut each half into 4. Place, in a single layer, onto a baking sheet, brush with olive oil and sprinkle with sea salt. Bake for 10-15 minutes, or until chips begin to turn a golden brown color.
Dill Dip
1/2 C mayonnaise
1/2 C sour cream
2 tbs fresh dill, chopped
1/4 tsp garlic powder
Mix all ingredients into a bowl and refrigerate 1 hr, before serving, to let flavors develop.