I saw this meal mentioned on a blog's Meal Plan, when I was browsing the Meal Plans at OrgJunkie, the other week. It intrigued me, so I did an online search for recipes. I found a recipe that used ingredients I always have on hand, so decided to give it a whirl. Hubby often asks why I never cook foods from different regions. I figured you can't go wrong with Greek food right, LOL. The burgers were good, for burgers, LOL (remember I am not a ground beef or burger fan). Hubby enjoyed them very much and really enjoyed the Tzatziki sauce that accompanied them. I thought the onion in the burgers, plus the onion in the sauce was too overpowering, but I'm not a huge onion fan either. (I know, I know... what the heck is my problem, right??). Hubby suggested maybe using veal, if I were ever to make these again and a wonderful lady on CFYF shared a recipe using beef and lamb. So I'm sure another variation of these will end up on the table, at some point in the future.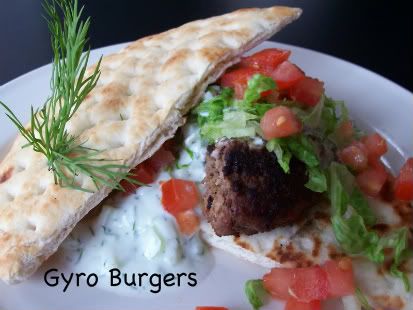 Gyro Burgers

1 pound ground beef
1 teaspoon dried oregano, crushed
1/2 teaspoon garlic powder
1/2 teaspoon pepper
1/4 teaspoon onion powder
1/4 teaspoon ground cumin
1/4 teaspoon salt
2 pita bread rounds (6-inch), halved crosswise

yogurt sauce:

3/4 cup plain low-fat yogurt
1/2 medium cucumber, peeled and chopped (about 2/3 cup)
2 green onions, thinly sliced
1 tsp chopped fresh dill, chopped
1/4 teaspoon granulated sugar
1/4 teaspoon garlic powder
salt, optional

In a small bowl, combine ingredients for the yogurt sauce. Refrigerate until burgers are done cooking. In a bowl, combine beef and spices, mixing well. Form into 4 patties and grill until desired doneness. To serve place 1 patty inside one half of a pita and top with yogurt sauce and lettuce and tomato, if desired.