Today is the day a winner is picked for the Silicone Bakeware Giveaway.
And the winner is.....
Random Integer Generator
Here are your random numbers:
2
Comment #2 - Brenda!!
Timestamp: 2010-05-03 13:14:09 UTC
Brenda I will be in contact with you so I can get your mailing address. Thank you to everyone who participated in this giveaway.
~~~~~~~~~~~~~~~~~~~~~~~~~~~~~~~~~~~~~~~~~~~~~~~~~~~~~~
Last week's Meal Plan pretty much went out the window, with my parents dropping by for a few days and Mr.B having a cold. Since he wasn't eating much, I wanted to make dinners I knew he would love, to get some nourishment into him. He still has a cough and I'm hoping the worse is behind him. So I will be carrying over some dishes from last week.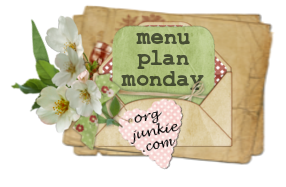 Monday
- Crock pot Honey Pork Oriental( new recipe) with white rice and broccoli
Wednesday
- Breakfast: bacon,
waffles
and melon(watermelon and canteloupe)
Thursday
- Ricotta stuffed chicken breast (new recipe) with mashed potatoes
and veg
Saturday
- hot dogs on the grill with potato cesar salad
Sunday
- Steak and cheese sandwiches
Once again head on over to
Org Junkie
to check out tons of meal plans for the week!!