Happy Victoria Day to my Canadian readers! It's a holiday here, so Mr.B has no school today. Hubby however, still has to work. The joys of working in the restaurant industry..... This week should be busy, with school Wed and Fri and a zoo outing on Thursday. Poor little Queenie has vaccinations tomorrow :(. I hope she tolerates them well. With the warmer weather, we are trying to use the grill more often. And I really am starting to curse Hubby's decision to go lowcarb/carb free, since I feel guilty making all my favorite summer salads (pasta and potato) and eating them in front of him. So I'm still trying to find fun, creative and delicious ways of cooking vegetables on the grill.
If anyone has any favorite low carb veggie recipes, please feel free to post them.
So here is our menu for the week, in no particular order, except for tonight.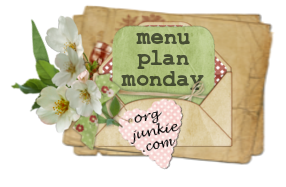 Monday- Grilled Honey Lime Chicken (new recipe) with grilled veggies (snow peas, broccoli, cauliflower, mushrooms, onion, garlic, evoo, sea salt, pepper, oregano and thyme) and baked beans (from the can).
Bronco Burgers (new recipe) with homemade burger buns and a salad
Crockpot Chicken Lickin Good Chops (new recipe) with rice and veg
Bowties with Broccoli and Cheddar (new recipe)
Spaghetti and Meatballs with a salad
Italian Sausage and hotdogs on the grill, with veggie kabobs
Leftovers in there somewhere
Head on over to
OrgJunkie.com
for tons of other great meal plans for the week!