Once again I'm participating in Potluck Sunday over at
Mommy's Kitchen
. Thanks Tina for letting us share our recipes with her readers!! Make sure to head over there to see what other great dishes are being brought over.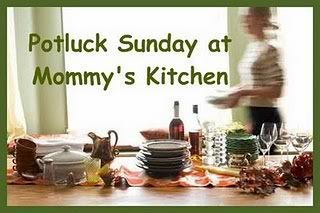 I really love to eat peanut butter toast, with sliced bananas on top. Just the combination of the salty peanut butter and the sweet banana, makes me smile. I was recently craving peanut butter and thought to myself, why not make peanut butter banana muffins. I knew the kids would love them, since they love banana muffins of all kinds, LOL. So, I did an online search and was pleased to find a recipe using whole wheat flour. I recently bought a bag, to try and make our favorites a tad more healthy. The muffins smelled so good while baking! You could smell the peanut butter and that wonderful banana muffin smell. I couldn't wait to dig in, once I took them out of the oven. They were good, but I would have liked a stronger peanut butter flavor. I really enjoyed the crunchy roasted peanuts, in contrast to the moist sweet muffin. I think next time I'll increase the amount of peanut butter and decrease the amount of banana, to see if there is a better PB flavor.
Peanut Butter Banana Muffins
Adapted from Best Health Magazine
1/2 cup (125 mL) unsalted butter
1/3 cup (75 mL) peanut butter
1 1/4 cups (300 mL) all-purpose flour
1/2 cup (125 mL) whole wheat flour
2 tsp (10 mL) baking powder
2 Tbs (30mL) ground flax meal (optional)
1/2 tsp (2 mL) baking soda
3/4 cup (175 mL) granulated sugar
2 eggs
1 cup (250 mL) very ripe mashed bananas, about 2 large
2 tsp (10 mL) vanilla
1/3 cup (75 mL) unsalted peanuts, chopped
Directions Preheat oven to 375F (190C). Lightly spray or grease 12 muffin tins. In a small saucepan melt butter over medium heat. Whisk in peanut butter. Pour into a large bowl to cool. In a medium bowl, place flours, baking powder, flax meal and baking soda. Whisk together ensuring there are no lumps. Stir sugar into cooled peanut butter mixture. Then stir in eggs until completely blended. Stir in bananas and vanilla. Gradually add flour mixture, stirring just until combined.
Spoon into muffin tins. Sprinkle with peanuts, gently pushing into batter. Bake in centre of preheated oven until golden and a skewer inserted in centre comes out clean, 16 to 18 minutes. Remove muffins from pan to a rack to cool.