Today I'm participating in Potluck Sunday over at
Mommy's Kitchen
. Head on over to grab some great recipes. Thanks to Tina for hosting and letting us share our recipes with her readers!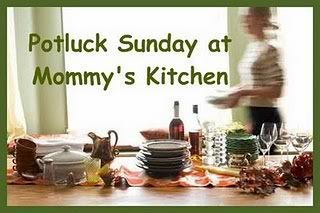 Everytime apples are on sale, I have to buy some. I don't know why; it's like I think there will be an apple shortage or something, LOL. So, imagine my surprise when I found 3-5lb bags of apples, in our cold storage room the other day. That's right, 15 lbs of apples!! Well, of course I now need to use all these apples, before they turn on me. I guess that's what I get for being obsessed with buying apples. I wanted to make something special for Mr.B, who has a cold and hasn't been eating all that well lately. So it had to be somewhat healthy too. I liked this recipe, since it used Whole Wheat flour and seemed to have more apples than batter. Let me tell you, this cake is a winner! It's moist and soft, with hints of tender apple and crunchy nuts. The caramel sauce brings it to another level, without making it too sweet. The spices aren't overwhelming and bring a comforting warmth to it all. I made a cinnamon whipped cream, to add a touch of richness and a hint of glamor to the cake. Mr.B enjoyed a piece for breakfast this morning, and I didn't feel guilty about him having cake for breakfast, LOL.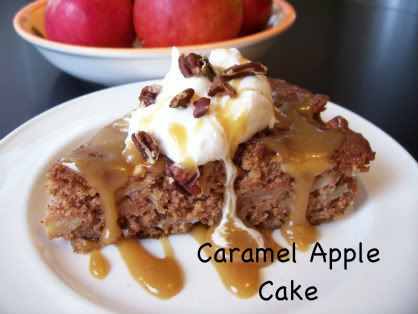 Caramel Apple Cake
Submitted by Jennifer (on Cooking for your Family)
4 C. apples - peeled, cored and sliced thinly
1 C. sugar
1/3 C. Canola Oil
2 tsp. vanilla
2 eggs
1 C. whole wheat flour
1 C. white flour
1/2 t. salt
1 t. soda
1 t. cinnamon
1/2 t. nutmeg
1/3 C. finely chopped walnuts (almonds or pecans also work)
Sauce
5 tbsp. butter
1 c. brown sugar, packed
1/4 c. half and half (my sub evaporated milk)
Pinch salt
1/2 t. Vanilla extract
Mix together apples and sugar in a large bowl. Stir in eggs, oil and vanilla. In a separate bowl stir together flours, salt, soda and spices. Stir dry ingredients into apples until well blended. Mixture will be very thick. Mix in the nuts. Pour into a 9x13 pan that you have sprayed with non-stick spray. Bake in 350 oven for 45 min, or until cake starts to shrink away from sides of pan.While cake is cooling, make caramel sauce.
Melt butter in a saucepan and stir in brown sugar. Add half and half and salt and heat to a boil stirring frequently. Simmer for 4-5 minutes, stirring constantly until it reaches desired thickness. Stir in vanilla. Slice the cake and serve with some of the sauce spooned over the top. (Store leftover cake with a lid, or plastic wrap over the top so it doesn't dry out. Store the caramel sauce in a separate container with an air-tight lid in fridge).
Cinnamon Whipped Cream
1/2 C whipping cream
1 Tbs sugar
1 dash cinnamon
In a chilled bowl, beat whipped cream until soft peaks for. Add in sugar and cinnamon and beat until stiff peaks for. Store in the frige for up to 4 days in a covered container.