I made these for breakfast this morning. I had 3 tubes of crescent rolls in the fridge and I was wondering what I was going to do with them, LOL. With Hubby on his low carb diet, I try not to make too many wonderful carb ladden dishes, since I don't want to make him suffer. But this morning I was in a crescent roll kind of mood. I remembered this recipe in my dessert file. It's been there forever, and I've never tried it until today. Mostly because I don't buy Maple Syrup too often. It was on sale last week, so I grabbed a bottle. These are really good. Tender and fluffy, with a maple sugar glaze and crunchy nuts. I love the buttery-ness of the crescent rolls with the maple glaze..... it's heavenly.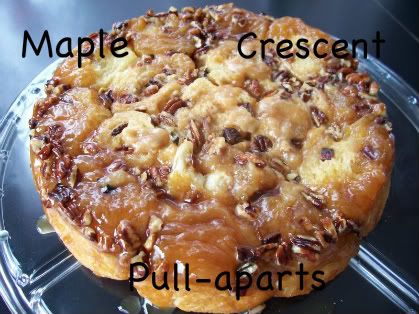 Maple Crescent Pullaparts
1/4 cup butter or margarine
1/4 cup firmly packed brown sugar
3 Tablespoons maple syrup
1/4 cup coarsely chopped pecans
2-8oz. can reduced fat crescent rolls
2 Tablespoon sugar
2 Tablespoon cinnamon
Heat oven to 375 degreesIn an 8 inch ungreased round cake pan combine butter, brown sugar, and maple syrup. Place in oven for 3 to 4 minutesor until butter melts; blend well.Sprinkle with pecans.Remove dough from can; do not unroll; cut each roll into 6 slices.In a small bowl combine cinnamon and sugar. Dip both sides of each slice in the sugar mixture.Arrange slices in pan over nuts. Sprinkle with any remaining sugar mixture. Bake for 17-23 minutes or until golden brown.Cool 2-3 minutes, then invert onto serving platter.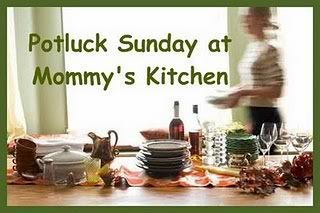 Don't forget to head over to
Mommy's Kitchen
, to see other great dishes, for Potluck Sunday!!!