A few weeks back, we were browsing in a discount store and I found a copy of a Bon Appetit cookbook, dirt cheap. I immediately scooped it up and enjoyed reading it, from cover to cover. There was a ton of recipes that I bookmarked and this is the first one I tried. I wasn't sure how well it would go over with the kids, since last time I made an oven pancake, no one really liked it. I think it's because we all thought it was going to be different than it was. This one, however, was awesome. It wasn't too eggy and the brown sugar added a sweetness that the previous oven pancake lacked. Mr.B loved his, while Quennie picked at it and ate mostly the apples. I loved how light and fluffy it was and it tasted great with a slight drizzle of maple syrup. This would be great for a brunch or even for dinner.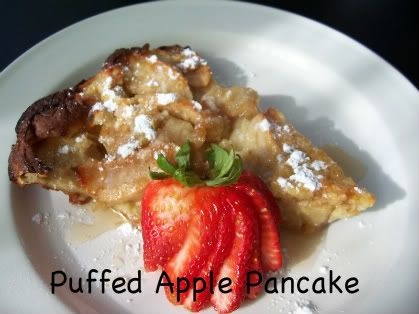 Puffed Apple Pancake
Adapted from Bon Appetit Fast Easy Fresh Cookbook
1C whole milk
4 large eggs
3 Tbs sugar
1 tsp vanilla
1/2 tsp salt
1/4 tsp cinnamon
2/3C flour
1/4C (1/2 stick) unsalted butter
2-6oz Golden Delicious apples, peeled, cored and thinly sliced
3 Tbs brown sugar, packed
Preheat oven to 425 degrees. Whisk first 6 ingredients in a large bowl until well blended. Add flour and whisk til batter is smooth. Place butter in 13x9x2 inch glass baking dish. Place dish in oven until butter melts, about 5 minutes. Remove dish from oven. Place apple slices in overlapping rows atop melted butter in baking dish. Return to oven and bake until apples begin to soften slightly and butter is bubbling and beginning to brown around the edges of dish, about 10 minutes.
Pour batter over apples in dish and sprinkle with brown sugar. Bake pancake until puffed and brown, about 20 minutes. Serve warm sprinkled with powdered sugar or with jam, apple sauce or maple syrup.
Cindy's notes:
I used Jonathan apples, since that's what I had on hand.
This recipe has been linked up to
Brenda's Canadian Kitchen
Cookbook Sundays, Recipe of the Week and Countdown to 2011: Breakfast