I was able to make this before the weather got too warm. That's the only thing I don't like about summer, I can't bake or use the oven, without turning the house into a sauna. I really love Italian food. It's one of my favorites. I could live the rest of my life on pasta and cheese and be perfectly happy. Hubby however would go crazy without meat for more than one day, LOL. Hubby is usually the one who makes the manicotti/canelloni since he likes making his own pasta. I'm not that adventurous, so opt for good ole store bought pasta shells. I've tried many different kinds of manicotti, but always seem to go back to cheese manicotti.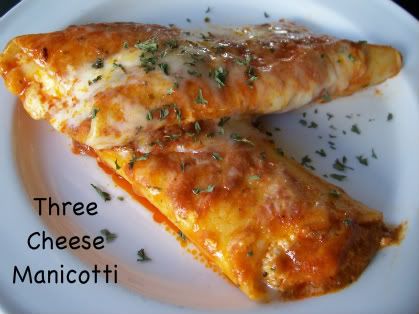 Three Cheese Manicotti
1 box manicotti shells, cooked to aldente
1 16 oz tub of ricotta cheese
1 1/2C shredded mozzarella, divided
1/2 C Parmesan or Romano
1/4 tsp garlic powder
1 egg
1/4 tsp salt
1/2 tsp fresh ground pepper
2 Tbs dried parsley flakes
1 jar favorite pasta sauce, or equivalent of homemade sauce
Mix the Ricotta, egg, salt, pepper, garlic powder, Parmesan and parsley in a small bowl. Mix in 1C shredded mozzarella and mix well. Using a piping bag or Ziploc bag with one corner cut off, fill manicotti noodles. Spread a thin layer of sauce in the bottom of a 13X9 inch baking dish. Place noodles in dish and top with remaining sauce. Sprinkle with remaining mozzarella and cover with foil. Bake in a 375 degree oven for 45 minutes. Remove foil and bake for an additional 15 minutes. Remove from oven and let sit for 10 minutes, before serving.