I really like to eat fish. I'm just scared of cooking it, for Hubby. The reason? I grew up with a Mom, who thought nothing was cooked, until it was dry and terribly well done. Fish included, LOL. So, whenever I do cook fish, I'm always so worried of over cooking it, but then worried of under cooking it, due to not wanting to over cook it. Does that make sense to anyone else but me??
My favorite way to cook fish, is pan frying. It's what I grew up with. Dad would come home with a great catch, clean it and Mom would dust it with seasoned flour and pan fry, for an awesome dinner. Flaky fish, fried golden brown in a crisp crust. It brings back memories, that bring a smile to my heart. This is also Mr.B and Queenie's favorite way to have fish.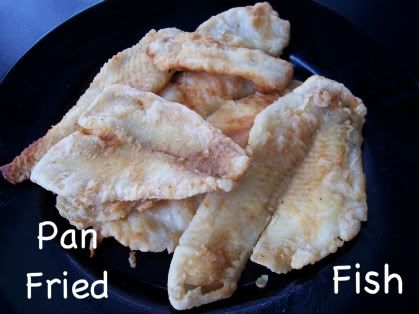 Pan Fried Fish
1 lb favorite fish fillets
1/2C flour
1 tsp salt
1 tsp lemon pepper or Cajun seasoning
oil for frying
In a large skillet, pour in enough oil to cover the bottom, by an inch. Heat oil, over medium heat, until bubbles form, when the handle of a wooden spoon is inserted, touching the bottom of the pan. In a shallow dish or pie plate, mix flour, salt and seasoning of choice. Dust both sides of fillets with flour, shaking off excess. Fry in hot oil, for about 3-5 minutes on each side, or until a nice golden brown on each side. Transfer to a paper towel lined plate, to drain excess oil and serve.
~~~~~~~~~~~~~~~~~~~~~~~~~~~~~~~~~~~~~~~~~~~~~~~~~~~~~~~~
I also wanted to try a Baked Lemon Sole recipe I had found, so I used half my fish for this recipe. It turned out really well. The fish was moist and I really enjoyed the tangy lemon, in contrast with the salty, nutty breadcrumbs and Parmesan. I did substitute butter for the oil and reduced both the butter and lemon juice by half.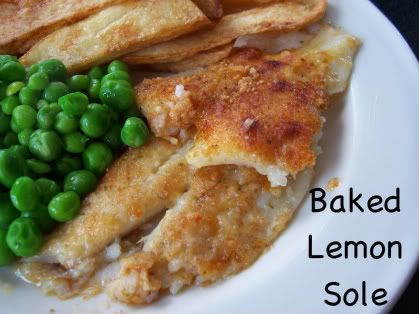 BAKED LEMON SOLE
Adapted from Cooks.com
1 lb. sole fillets
1/4 c. vegetable oil
1/4 c. fresh lemon juice
3 tbsp. dry bread crumbs
3 tbsp. grated Parmesan cheese
1/2 tsp. paprika
In a small bowl combine vegetable oil and lemon juice with whisk; pour into 13x9x2 inch glass baking dish.Rinse fillets in cold water, pat dry, add to baking dish and turn fillets over to coat with oil-lemon juice mixture.
Sprinkle fillets evenly with dry bread crumbs, then with grated Parmesan cheese. Dust with paprika. Bake at 350 degrees 15 minutes or until fish flakes easily with a fork. May also be done in microwave on high for about 3-4 minutes. Serves 4.