I saw this recipe, while reading the latest issue of the Kraft magazine. I thought it was a nice twist on a regular burger, so thought we should try it. With Hubby low carbing it, he is eating a lot of meat, so I'm trying to find new recipes, so he doesn't get bored. This was perfect for him, since he could omit the bun, but still have the yummy grilled vegetables. The burgers were melt in your mouth tender. I really loved the smokiness of the BBQ sauce, with the sweetness of the grilled onions and red peppers. Hubby really enjoyed these and said that the veggies are what makes this recipe so great. I used Bulls Eye BBQ sauce, since that's what we usually buy.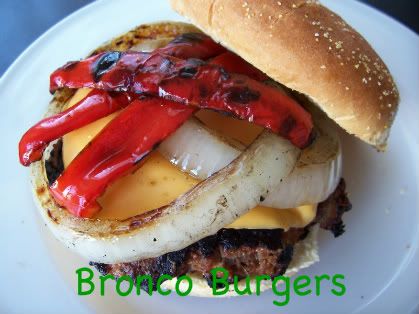 Bronco Burgers
Adapted from Kraft What's Cooking Magazine
makes 4 servings
1 lb. (450 g) extra-lean ground beef
1 egg
1/4 cup plus 2 Tbsp Kraft Original BarBQ Sauce, divided
1 red pepper, cut into 1/2-inch-wide strips
4 onion slices, 1/2 inch thick
4 Kraft Singles Process Cheese Product Slices
4 hamburger buns
1/4 cup Miracle Whip Dressing
4 lettuce leaves
HEAT barbecue to medium-high heat. MIX meat, egg and 2 Tbsp. barbecue sauce; shape into 4 patties. GRILL patties, peppers and onions 5 min. on each side or until burgers are done (160ºF) and vegetables are softened and lightly charred, brushing burgers and vegetables occasionally with remaining barbecue sauce. Top burgers with Singles; grill 1 to 2 min. or until melted. Meanwhile, place buns, cut-sides down, on barbecue; grill until toasted. SPREAD buns with dressing; fill with lettuce, burgers and vegetables.