I found this recipe on the General Mills website. The picture looked really good and I liked that they used Cheerios in the crust. I figured I'd try it, but change the flavor to berry, so I could use the ingredients I had on hand. I used raspberry Jello and mixed berry yogurt. It was good, but I think the cinnamon in the crust may be turning me off. It's rich and creamy, yet jiggly, which Mr.B loves. Queenie took one bite and decided to pass on desert, LOL. Next time I make this, I'll be trying lemon and omitting the cinnamon, from the crust.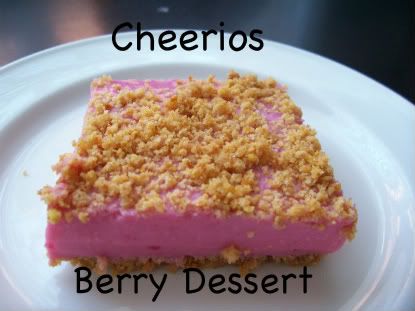 Cheerios* Berry Dessert
Adapted from General Mills website
3 cups (750 mL) CHEERIOS* cereal, finely crushed
1/3 cup (75 mL) butter or margarine, melted
1 tbsp (15 mL) sugar
1 tsp (5 mL) cinnamon
2/3 cup (150 mL) boiling water
1 pkg (85 g) lemon flavoured jelly powder
2 cups (500 mL) lemon or vanilla flavoured yogurt
Heat oven to 350°F (180°C). Stir together cereal, butter, sugar and cinnamon. Reserve 2 tbsp (25 mL). Press remaining cereal mixture into ungreased 8 or 9- inch (20 or 22 cm) square baking pan. Bake 9 minutes. Cool.
In medium bowl, pour boiling water on jelly powder and stir until gelatin is dissolved. For fast chilling, place this bowl inside another larger bowl that has ice and water in it and let sit for 2 to 5 minutes or until chilled. Stir yogurt into gelatin mixture until blended. Pour over baked layer.Sprinkle with reserved cereal mixture. Refrigerate 1 1/2 to 2 hours or until firm. Serve immediately or refrigerate until needed.
Tip: Use crushed Cheerios* cereal in any recipe that calls for graham cracker crumbs. Try other combinations of jelly powder and yogurt. For example, lemon jelly powder and lemon or vanilla yogurt.