Pancakes..... light fluffy little rounds of goodness. Drenched in butter and syrup. Yummy, Yummy, pancakes. That is how the kids and I feel about them. We love them and as a result eat them 3-4 times a week. Well, all those pancakes can make someone fluffy too, so I've decided to try a healthier version of our favorite breakfast. Guess what??!! The kids didn't even notice that I healthied them up. They still gobble them up, like no body's business. And I don't feel so guilty about having pancakes so often. Still fluffy, but with added protein, fibre and Omega 3 fatty acids. Mr.B loves his with peanut butter and honey, while Queenie likes hers with some all fruit spread (thinned out with a touch of water). Yummmm, pancakes......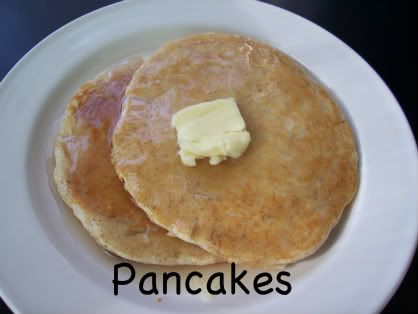 Healthier Pancakes
1 egg*
2 Tbs sugar
1/4 tsp salt
2 Tbs oil
1 C flour
1/2C whole wheat flour
2 Tbs ground flax meal
2 tsp baking powder
1/2-3/4C milk
Preheat skillet or griddle to med low heat. In a bowl, whisk together the egg, sugar, salt and oil, until light yellow. Add flours and flax meal, and start to combine with egg mixture. Pour in 1/2C of milk and mix until well combined, adding enough milk to make a medium thick batter ( a few lumps are OK). Spray griddle with cooking spray and drop batter by laddle fuls, flipping when bubbles start to form on top of pancakes. Cook until golden brown on second side (1-2 minutes). Serve with your favorite toppings.
*you can omit the egg, by mixing the 2 Tbs of ground flax, with 4 tbs of water and letting it sit for a minute or two, and increasing the oil to 4 Tbs.