Yesterday, we had planned to attend a Strawberry Festival near by. I knew that it would be the only chance I had, to pick fresh strawberries this year. And with my Mom here, it couldn't be more perfect, since I'd have help keeping an eye on the kids, while we picked. Well, we woke up to rain and decided to go regardless. We had a lot of fun!! Mom and I got some face paintings, since the kids refused to get theirs done first, LOL. After face painting, we decided to jump on the tractor pulled wagon and head over to the strawberry field. Despite getting our bottoms wet, the rain eventually stopped and we ended up picking 10 litres of strawberries. Queenie did really well and picked half a basket with me. She really loved picking the "Big one"s. Mr.B was more interested in running up and down the rows and had to be reminded to not squish any of the berries. The picking went fast, since the berries were big and plentiful.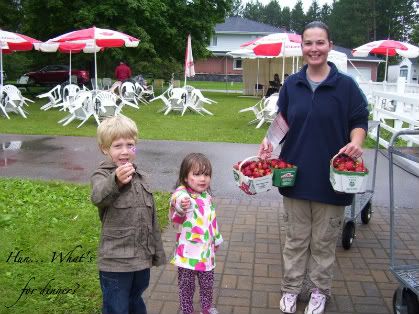 When we got home, I decided to try my hand at making strawberry jam. The instructions were very confusing, since it said to purchase 4 litres of berries, but only use 4 cups, to 7 cups of sugar. Being a stubborn person, I decided to use 6 cups of berries and ended up with strawberry syrup, LOL. I should have added extra pectin, for the extra berries, but I am not disappointed with my mistake. The sauce is very delicious and will go nicely on ice cream, this summer. It'll also be great on waffles, pancakes and even angel food cake, for quick shortcakes. I plan on buying more canning jars, to make actual jam, following the directions to a 'T' this time.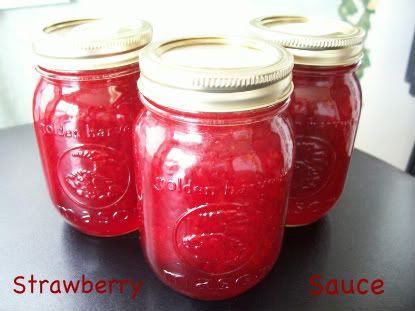 Strawberry Sauce

6 C crushed strawberries
7 C sugar
1/4 C lemon juice
1 pouch liquid pectin
1/2 tsp salted butter or margarine (to reduce foaming)
Hull and crush berries, one layer at a time, until you have 6 C of crushed berries. Place berries, sugar lemon juice and butter in a deep stainless steel saucepan. Over high heat, bring mixture to a rolling boil, that cannot be stirred down. Stir in liquid pectin, squeezing all contents from pouch. Boil hard, for 1 minute, stirring constantly. Remove heat and skim off foam, if necessary. Fill hot sterilized jars, with hot sauce and top with lid, just barely screwing on the ring. Let cool until lids pop, then screw the rings tightly.