Well, I'm feeling better this week and MIL had to return home, so it's time to get back on track with Meal Planning. This week should be a quiet one and we are slowly gearing up for the start of Summer. Mr.B only has one week of school left and is excited to become a Senior Kindergartener next year. He is off on a zoo field trip today and I'm hoping he enjoys himself. So here is the menu for this week, in no particular order.....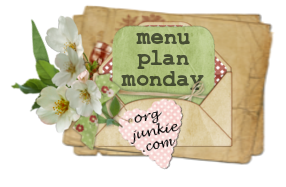 Baked Lemon Sole with homemade fries and peas
Peameal Bacon sandwiches with homemade buns and coleslaw
Shrimp and Scallops on the grill with homemade coleslaw
Maple Bourbon BBQ Chicken (new recipe) with foil packet potatoes and vegetables
Breakfast- broccoli cheese omlettes with fresh berries
leftovers
Make sure to check out tons of other meal plans, for the week, over at OrgJunkie.com.