Happy Monday!! Today is Mr.B's last day of Junior Kindergarten!! He is super excited about his class party today and the start of summer vacation, tomorrow. We will be sticking close to home this summer, but plan on visiting my family and getting some good fishing in. This week should be quiet, but we will be heading up North for the weekend. Last weeks menu changed quite a bit, with an unexpected surgery consult, so I'm carrying some meals over. So here is the menu, in no particular order, for Mon-Fri.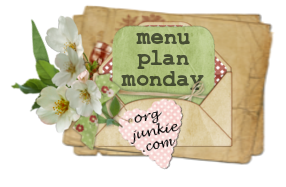 Salmon salad sandwiches, spinach dip with tortilla chips, carrot and celery sticks
homemade pizza with a salad
Lemon baked Sole with homemade fries and fresh peas
Maple Bourbon BBQ chicken (new recipe) with foil packet potatoes and veggies
Breakfast- waffles with Strawberry sauce and fruit salad
Head on over to OrgJunkie to find a bunch of other meal plans for the week.