It's been a trying couple of days, with Queenie sick. We aren't sure what is up with her..... Thursday we went to a Medieval Festival and by that night, she refused dinner, had a slight fever and was super snuggly. Her fever rose Friday, but not enough to warrant any Tylenol. She hasn't really eaten anything in 4 days, so hopefully I can get her in, to see the Dr today, since Mr.B and I have an appt. So, I'm pretty glad this week will be a quiet one, with Mr.B in school for 3 days. Our good friend is coming for dinner, on Thursday, so I'm excited about that one! Nothing too spectacular this week. I'm trying to use what's in the freezer and pantry. Oh, and keep an eye out for an awesome Red Pepper Jelly recipe this week!!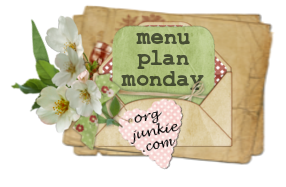 Our menu in no particular order:
Maple Dijon Pork Tenderloin (new recipe) with roast potatoes and Maple-Glazed carrots (new recipe)
Prime rib with Potato salad and Tomato Mozzarella salad
Porcupine Balls with rice and peas
BBQ Chicken Sandwiches with baked beans (canned)
Grilled Chicken salads
Pork Stir Fry (using leftover tenderloin)
Leftovers
Don't forget to head over to OrgJunkie, to check out tons of other great meal plans, for the week!!