I received this recipe in a DVO.com news letter. The picture looked really yummy, so I saved the recipe. I just got around to buying M&Ms, so I figured I better make these, before the kids and I ate them all. These were super simple to make and taste so good. They are totally not good for you, but taste YUMMY, LOL. The recipe made such a big batch, that I gave some to our neighbours, who said the kids went crazy for them. Crunchy cereal, chewy peanut buttery coating and chocolate bits throughout. What could be better. I also love these since you don't need to use the oven, so they are a perfect summer treat!!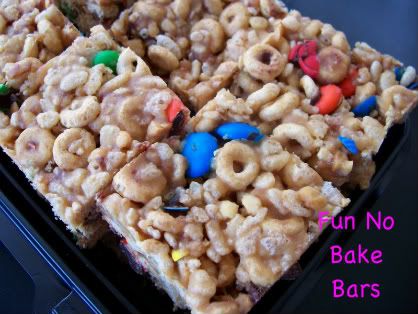 Fun No Bake Bars

Adapted from DVO.com
4 cups Cherrios
4 cups Rice Crispies
2 cups M&M's
1 cup light corn syrup
1 cup sugar
1 1/2 cups chunky peanut butter
1 teaspoon mexican vanilla
In a large bowl, combine first 3 ingredients; set aside. In a saucepan, bring corn syrup, peanut butter and sugar to a boil, stirring frequently. Remove from the heat; stir in vanilla. Pour over cereal mixture and stir to coat. Spread into a greased 15 x 10 x 1 in baking pan. Cool and cut into squares.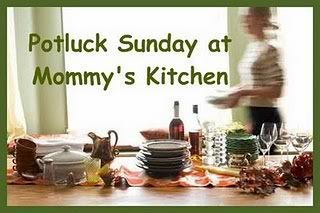 Don't forget to head over to
Mommy's Kitchen
, to check out other great recipes, for Potluck Sunday!!