I saw this recipe in one of Paula Deen's magazines, at my doctor's office. I quickly wrote down the recipe, because the picture looked to die for. I've been thinking about this cake since then and finally decided to make it yesterday. Mr.B and I had some for dessert, after Queenie went to bed. She refused to eat all her dinner, so no dessert for her (even though she isn't feeling well these days). Let me tell you, this cake is heavenly. I really love the flavor the Jello powder imparts to it. The color is just amazing and makes me think summer. I didn't make the cream cheese frosting to accompany it, since we didn't have cream cheese and I wanted something lighter. I simply frosted it with whipped cream, put strawberries in the middle and garnished with some chocolate covered strawberries. Mr.B had 2 pieces and I had to stop myself from having a second piece as well. A really easy, but impressive tasting and looking cake. Once again Paula comes through with a keeper!!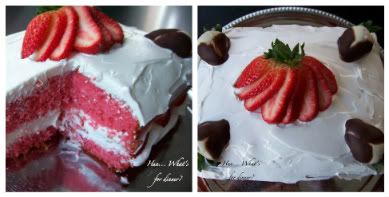 Strawberry Cake
Courtesy of Paula Deen May/June 2008 magazine
1 (18.25-ounce) box white cake mix
1 (3-ounce) box strawberry-flavored instant gelatin
1 (15-ounce) package frozen strawberries in syrup, thawed and pureed
4 large eggs
1/2 cup vegetable oil
1/4 cup water
Strawberry cream cheese frosting:
1/4 cup butter, softened
1 (8-ounce) package cream cheese, softened
1 (10-ounce) package frozen strawberries in syrup, thawed and pureed
1/2 teaspoon strawberry extract
7 cups confectioners' sugar
Freshly sliced strawberries, for garnish, optional
Preheat oven to 350 degrees F. Lightly grease 2 (9-inch) round cake pans.
In a large bowl, combine cake mix and gelatin. Add pureed strawberries, eggs, oil, and water; beat at medium speed with an electric mixer until smooth. Pour into prepared pans, and bake for 20 minutes, or until a wooden pick inserted in the center comes out clean. Let cool in pans for 10 minutes. Remove from pans, and cool completely on wire racks.
For the frosting
:In a large bowl, beat butter and cream cheese at medium speed with an electric mixer until creamy. Beat in 1/4 cup of the strawberry puree and the strawberry extract. (The rest of the puree is leftover but can be used in smoothies or on ice cream for a delicious treat.) Gradually add confectioners' sugar, beating until smooth. Spread frosting in between layers and on top and sides of cake. Garnish with sliced fresh strawberries, if desired.