I first had this, a few years ago, at my Mother in Law's house. I really liked the flavors and that it wasn't your traditional Manicotti, so I asked her for the recipe. I've made it once before, but it didn't go over to well with Mr.B, so never made it again. Since I'm kid free for a week or so, I decided to make a pan, to have something I could just heat up for dinner. Cooking for one isn't any fun, so this would be the perfect dish, to tide me over for a few days. I really like the tangy cream cheese, paired with the savory pimentos and broccoli. Everything pairs so nicely and it really doesn't take much time to assemble at all. This is definitely on of my 'when the kids are not home' favorites.
(the ones in the photo look a little dry, but that is after sitting for almost 30 minutes, while I was on the phone with my Mom. I promise these are creamy and saucy!)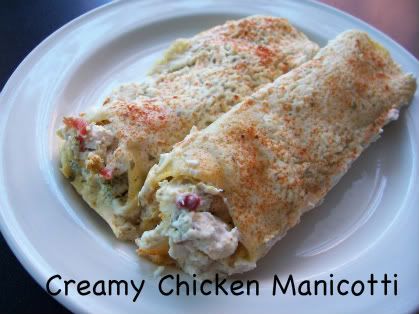 Creamy Chicken Manicotti
8 oz manicotti shells, cooked al dente
16 oz chive and onion cream cheese
1C milk
1/4C Parmesan
2C chopped chicken, cooked
10 oz frozen broccoli, thawed and drained
4 oz pimentos, drained
1/4 tsp salt
1/4 tsp pepper
1/4 tsp paprika
Preheat oven to 350 degrees. Grease a 9X13-inch oven safe dish. In a medium saucepan, heat cream cheese and milk, over med-low heat, until cheese melts. Stir in Parmesan and pepper, until smooth. In a large bowl, combine 3/4 C of the cheese sauce, all the chicken, broccoli, pimentos and salt; mix well. Spoon filling into cooled manicotti shells and place them in the dish. Pour remaining sauce over shells and sprinkle with paprika. Cover and bake for 30 minutes, until heated through.
This post is being linked to
Mommy's Kitchen
,
for Potluck Sunday.