I came up with this recipe on Canada Day. I knew I wanted to grill chicken, I just wasn't sure how I wanted to season it. After looking in the fridge and spotting a bottle of French dressing I had purchased for a previous recipe, I decided to use it as a marinade. The results were fantastic. The chicken was moist and sweet, with a hint of smoky BBQ flavor. I can't say enough about indirect heat grilling. It's wonderful!! It does take longer than usual, but the results are worth the wait. The chicken is always so moist and tender, without the burnt and dry outer skin. The kids also loved this chicken and the leftovers were turned into a quite yummy chicken salad.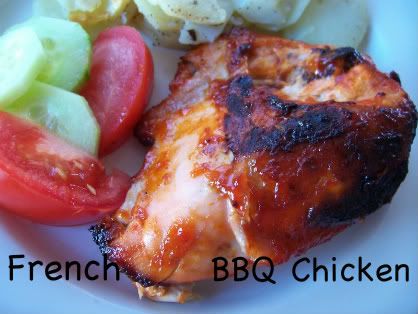 French BBQ Chicken
4 chicken breasts (bone in and skin on)
1/2 C French dressing
1/2 tsp garlic powder
1/4 tsp pepper
1/4 C favorite BBQ sauce ( I used Bulls eye original)
In a small bowl combine dressing, garlic powder and pepper. Place the chicken breasts in a large, resealable plastic bag and pour in the marinade. Press the air out of the bag and seal tightly. Turn the bag to distribute the marinade, place in a bowl, and refrigerate for 6 hours, turning occasionally.
Remove the chicken breasts from the bag and discard the marinade. Grill the chicken, bone side down, over Indirect Medium heat until the juices run clear and the meat is no longer pink at the bone, 30 to 40 minutes. An instant read thermometer should read 165 degrees, when inserted to the bone of the thickest part of the breast. Baste with your favorite BBQ sauce while grilling. Serve warm.