Happy Birthday Canada! No big celebrations here today, since Hubby is working tonight. The kids and I will enjoy something on the BBQ, eat outside and perhaps venture to the park, after dinner.
I wanted to post a great strawberry recipe, that I made a few days ago. This would be a perfect dessert for any BBQ, so I thought it would be a great Canada Day post. Someone posted this on Cooking for your Family and since I'd just gone strawberry picking, I decided to give it a try. Boy am I happy I did! It's SO good!! The cake is moist, with a touch of syrup and the almond extract adds a wonderful flavor to the berries. Seriously, Hubby and I ate about half of it, the first day, LOL. The kids don't care much for it though, but I don't mind, since that means there is more for me to enjoy.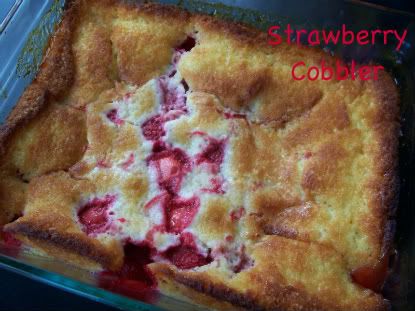 Strawberry Cobbler
Adapted from Culinary in the Desert
1 cup all-purpose flour
1 teaspoon baking powder
1/2 teaspoon salt
2 large eggs
1 1/2 cups granulated sugar, divided
1/4 cup milk
2 tablespoons unsalted butter, softened
1/4 cup water
1 tablespoon fresh lemon juice
1 teaspoon vanilla
1/2 teaspoon almond extract
3 1/2 cups fresh strawberries, hulled
Preheat oven to 375 degrees. In a medium bowl, whisk together flour, baking powder and salt. In a large mixing bowl, beat together eggs and 1 cup granulated sugar. Beat in milk and butter. Add dry ingredients and stir just until combined. Scoop mixture into a 9" square baking pan (or other 2-quart baking dish) coated with cooking spray.
In a medium saucepan, add remaining 1/2 cup sugar, along with water, lemon juice, vanilla and almond extract. Bring to a simmer, stirring, and cook for 3 to 4 minutes. Stir in strawberries to coat. Immediately pour hot mixture over the batter in the baking pan.
Place into the oven and bake until golden, about 30 minutes. Makes about 9 servings.