Good morning!! I'm in such a good mood today, since my babies are coming home! I'm expecting them around lunch time, so I'm busy tidying up a bit, before they come destroy the place, LOL. I've missed them so much, but I think I've missed cooking a bit more. I'm glad to get back on track, start meal planning again and get into that kitchen. Though it was nice to just eat what ever, when ever, I did miss the feeling I get when I place nutritious meals in front of my children. So here is our menu for the week, in no particular order.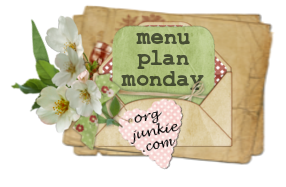 Pork Chops on the grill with foil packet potatoes and veggies
Roast beef with mashed potatoes and carrot/ruttabaga puree
Hot roast beef sandwiches with fries and peas
Homemade pizza with tossed salad
Breakfast: French toast with orange slices and berries
leftovers
Head on over to OrgJunkie.com to browse a ton more great meal plans for the week.