I made these this morning, for breakfast. Quennie decided to sleep in (a rare occurence), so I took the opportunity to bake something yummy for us. These are really good. Moist and chewy, not too sweet with a hint of apple flavor. The kids loved them and ate 2 each. I really liked the crunchy streusel topping. I did make them a tad healthier, by adding 1/2C of whole wheat flour. I'm sure you could even substitute apple sauce, for the oil and make them super healthy. Perfect for breakfast, or snack!!
Apple Streusel Muffins

Adapted from Company's Coming, Most Loved Treats cookbook
Topping:
1/4 C brown sugar, packed
2 Tbs flour
1/8 tsp cinnamon
1 tbs margarine or butter, softened
Muffins:
1 1/2 C flour
1/2 C sugar
1 Tbs baking powder
1/2 tsp salt
1 large egg
2/3 C milk
1/4 C vegetable oil
3/4 C shredded cooking apple (such as McIntosh), packed
Topping
: Combine brown sugar, flour and cinnamon in a bowl. Cut in butter until mixture resembles coarse crumbs. Set aside.
Combine flour, sugar, baking powder and salt. Make a well in center. Beat egg, milk and oil in a small bowl. Add apple and stir together. Pour into well and stir until just moistened. Grease 12 muffin cups with cooking spray. Fill cups 3/4 full. Sprinkle topping over batter in each cup. Bake at 400 degrees fro 15-20 minutes, until golden and wodden pick inserted in center of muffin comes out clean. Let stand 5 minutes, before removing from pan, to a wire rack to cool. Makes 12 muffins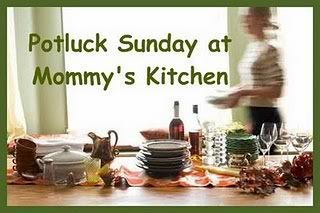 Make sure you head over to
Mommy's Kitchen
, to see what other great recipes are being shared for Potluck Sunday!!
I'm also submitting this recipe to
Brenda's Canadian Kitchen
, for Cookbook Sundays.