I was cleaning out the freezer this past week, and found a ton of bananas stashed way in the back. I was planning on baking something for my girlfriend, whom we were going to visit, so I figured banana bread was the way to go. I wanted to try a new recipe, since my Mom's recipe never turns out the way it does when she makes it, and that just makes me mad, LOL. So, I looked through my new cookbook and found this recipe. Wanting to know if it really was the best ever, I eagerly mixed all the ingredients together. 90 minutes later, I was sampling a warm slice slathered with butter. I must say that it's pretty darn good. Even at room temperature, it is super moist and soft. It is a tad sweet and that is after cutting the sugar down 1/2 C. So, I'm not sure if it is the best ever banana bread, but it is super delicious.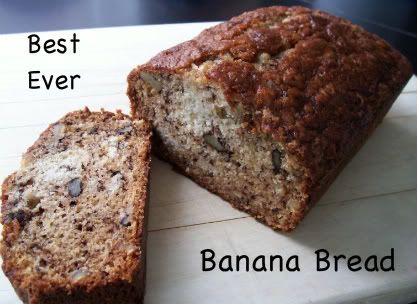 Best Ever Banana Bread
Adapted from Bon Appetit Fast Easy Fresh Cookbook
2 ripe medium bananas, mashed
2 large eggs
1 3/4 C all purpose flour
1 1/2 C sugar
1 C chopped walnuts or pecans
1/2 C vegetable oil
1/4 C plus 1 Tbs buttermilk
1 tsp baking soda
1 tsp vanilla
1/2 tsp salt
Preheat oven to 325 degrees. Butter and flour 9x5x3-inch metal loaf pan, Whisk bananas and eggs in a large bowl to blend. Add all remaining ingredients and stir to blend well. Transfer batter to prepared pan. Bake bread intil top is golden brown and splits slightly and tester inserted into center comes out clean, about 1hr and 20 mins. Cool in pan on rack 20 mins. Turn bread out onto rack and cool slightly. Serve warm or at room temperature.
*This recipe does not double well. To make two loaves, you'll need to make 2 seperate batches of batter.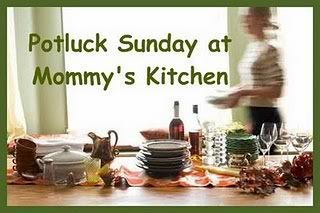 Make sure to head over to
Mommy's Kitchen
, to check out what everyone else is bringing to Potluck Sunday!
I'm also submitting this recipe to
Brenda's Canadian Kitchen
, for her Cookbook Sundays.