As I mentioned last week, Hubby was creating a cake, for my parent's 40th Anniversary. I have to say it turned out wonderfully and both my parents loved it. We had such a great time with everyone and enjoyed a ton of great food. I brought my
pasta salad
and of course my Dad's favorite,
baked beans
. I just wanted to show off Hubby's creation, since it was such a huge hit. It was topped with a boat and gum paste figures of my Mom and Dad, LOL.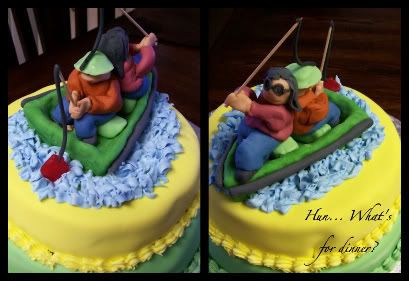 Since we returned home last night, I've yet to plan a menu for this week. I'll basically be using what ever I find in the pantry and freezer, since we aren't due for grocery shopping, until the weekend.