Well, I've caught a summer cold, so soup was definitely on the agenda for dinner, last night. I can't have soup without some sort of dipper, so I decided to make one of my favorites. My Mom makes these often when she makes soup and these just remind me of home. Exactly what I needed, since I feel less then stellar. I love the fluffy inside and crunchy outside. Just perfect for soaking up the nice hot soup. My Mom usually uses shortening, but I like to use butter, for a richer taste.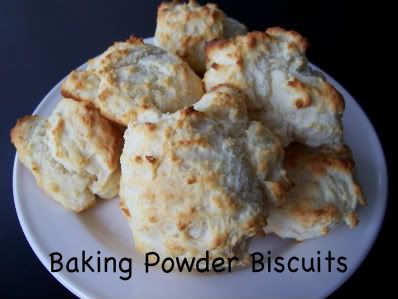 Baking Powder Biscuits
2C flour
1Tbs baking powder
1/2 tsp salt
1/3C shortening or butter
3/4C milk (more if needed)
Mix all the dry ingredients together. Cut in shortening or butter, mixture is crumbly (about the size of peas). Add in milk and stir until just combined. Transfer to a floured surface and knead 10 times. Roll out to 1/2 inch thick and cut with a round cookie cutter. Place on cookie sheet and bake in a 425 degree oven, for 10-15 minutes or until golden.
Cindy's notes:
I usually make drop biscuits, so I add a bit more milk, to make a stickier/looser dough. Then drop onto a cookie sheet ( about 2 Tbs dough, per biscuit) and bake as directed above.