This week, I've been trying to use what is in my fridge/freezer and pantry, since we weren't due to grocery shop until this weekend. So after taking inventory, I remembered seeing this recipe in my Crohn's cookbook. I quickly located it and was so happy I had all ingredients on hand. Well, I didn't have diced tomato or tomato paste, but I did have tomato sauce. Same difference right? The kids don't eat cooked tomatoes anyway, LOL.
This was really good. Simple to make, but tasted great and comforting. The kids really enjoyed it and they both had 2 servings. They also did not complain when we had the leftovers for lunch yesterday. There's just something about meat simmered in tomato sauce. It just tastes wonderful. The chicken was tender and the sauce was flavorful, without being too overpowering. This one is surely going on regular rotation!!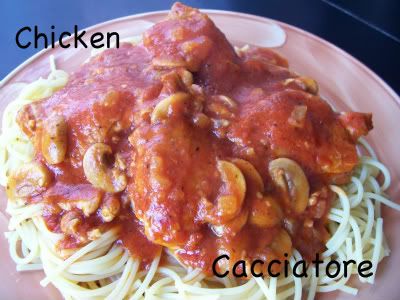 Chicken Cacciatore
Adapted from How to Cook for Crohn's and Colitis
1 Tbs olive oil
8 boneless skinless chicken breasts
1 C diced onion (1 med onion)
1 tsp minced garlic ( 2 medium cloves)
8 oz fresh white mushrooms, stems removed and caps sliced
1- 14.5oz can diced tomatoes
4 Tbs tomato paste
1 tsp Italian seasoning
1/2 tsp salt
1/4 tsp pepper
Hot spaghetti or fettuccini
Heat olive oil in medium skillet over medium-high heat. Add chicken thighs and brown about 4-5 mins on each side. Remove thighs and set aside. Add onion and cook about 5 minutes, until translucent. Add garlic and mushrooms and cook another 5 minutes, until mushrooms are tender.
Add tomatoes, tomato paste, Italian seasoning, salt and pepper. Stir well. Add chicken and nestle into the sauce. Bring to a boil, cover and simmer for 25-30 minutes, until chicken is tender. Serve over hot spaghetti or fettuccini.
Cindy's notes:
I used a 14.5oz can to tomato sauce, in place of the diced tomato and tomato paste. I also used a mixture of dried basil, thyme and oregano, for the Italian seasoning.
I'm submitting this recipe for Cookbook Sunday, over a Brenda's Canadian Kitchen.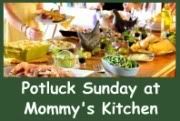 I'm also submitting this recipe to Potluck Sunday, over at Mommy's Kitchen.