I'm in a total cooking rut. I'm sure it has a lot to do with my medication, it either makes me ravenous, or so indecisive I don't want to cook. This week's meal plan was hard to think up. Mostly because I'm not in the mood for anything and therefore not eating much. Oh the joys of living with IBD. Anyhow, I finally finished my menu, though I'm not sure how closely I will follow it. I do take comfort in the fact that I do have a plan, so I'm not just flying by the seat of my pants, LOL. So here it is, in no particular order....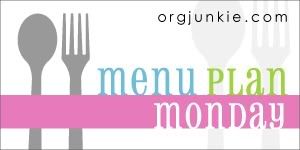 Chicken and corn, on the grill, with mashed potatoes and gravy
Bacon pasta, with garlic bread and a salad
Pierogies, with bacon and onion, tossed salad
Vegetable soup and Baking Powder Biscuits
Peameal Sandwiches on homemade buns, with coleslaw
Prime rib, crash hot potatoes (new recipe), glazed carrots, Yorkshire pudding and au jus
Leftovers
Head on over to OrgJunkie.com, to find tons of other meal plans for the week!!